A corporate scientist and 3M's first-ever Chief Science Advocate, our #WCWinSTEM is a creative thinker, proud mother and STEM champion!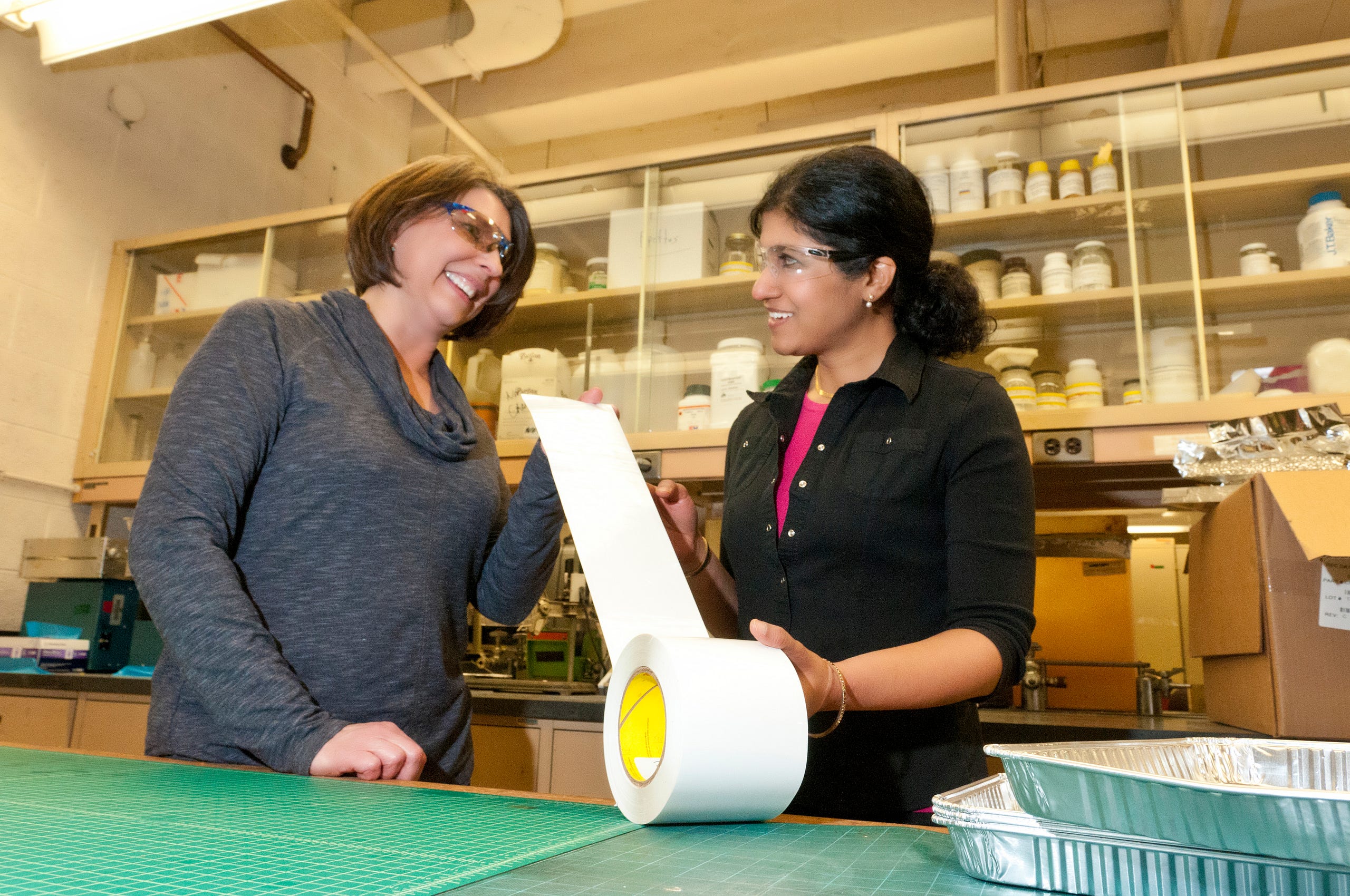 Responses may be edited for clarity and brevity.
---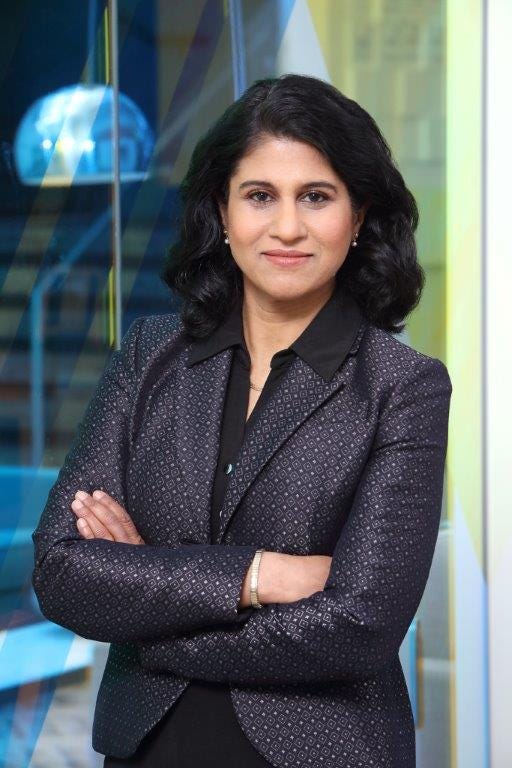 Where did you go to school?
Ph.D. Chemical Engineering, Clarkson University, Potsdam, NY
M.S. Chemical Engineering, Clarkson University, Potsdam, NY
B.S. Chemical Engineering, National Institute of Technology, Tiruchirappalli, India
What do you do right now?
I am a Corporate Scientist at 3M and was appointed as 3M's first-ever Chief Science Advocate last year. Serving in these two roles, I combine my technical expertise and creativity with my love of science. As a Corporate Scientist, I work with other engineers and scientists to breakdown complex problems, and currently lead the technology development for sustainable products in 3M's Industrial Adhesives and Tapes Division (IATD). Unfortunately, I can't share too many details about what I am working on in the lab, but there are a lot of exciting things happening in my Chief Science Advocate role I am happy to talk about!
The most recent 3M State of Science Index shows that [the public maintains] a skepticism towards science, but also has high expectations of the field. Globally, one in three people are skeptical of science and over half believe science causes just as many problems as it generates solutions, but 87 percent of people agree that we need science to solve the world's biggest problems. As Chief Science Advocate, my goal is to use these insights to foster conversations with various audiences around the world on the impact and benefits of science in everyday life, and to make science more relatable while encouraging a new generation of scientists and science advocates.
At 3M, we are committed to advancing STEM education and we are working on a variety of initiatives aimed at empowering the next generation of scientists via mentorship programs, grants and speaking engagements.
This year, we are calling on the global community to advocate for science and we have several initiatives in place to rally people. For starters, the public can support STEM education through our partnership with DonorsChoose. We've worked with DonorsChoose to identify schools in need and will match more than $50,000 in online donations to STEM education initiatives. Anyone can make a donation and trigger the match at 3M.com/scienceindex.
What made you choose your STEM discipline in the first place?
I was raised in a small university town in Northern India, in the foothills of the Himalayas, surrounded by scientists and engineers. With a prestigious engineering institution right in town, everyone aspired for their kids to become engineers. In the time and place where I grew up, most girls didn't have many independent thoughts when it came to the future and we definitely didn't have female STEM role models. I never saw myself as the 'engineering type,' but with strong encouragement from my parents, I applied to the local engineering school.
I wasn't admitted, but I still ended up getting my bachelor's in chemical engineering from another institution. In the final year of the program, when many of the students at the top of my class were applying for graduate school in the U.S., I decided to apply as well, just for fun. I was accepted and my life took a different course from there. I moved to the United States, went on to get my Ph.D. and started my career at 3M.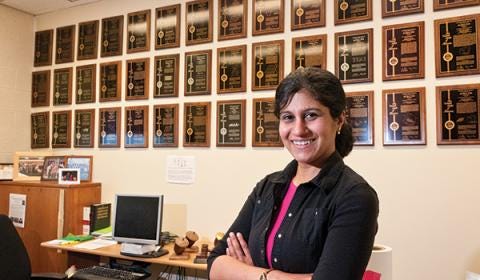 What's one piece of advice you wish you had when you started your STEM journey?
That there is really no such thing as the science or engineering "type."
I never thought I was smart enough to be a scientist or curious enough to be an engineer, but thanks to the encouragements of my family and countless mentors, I was able to overcome my own hesitations.
Three decades later, I have enjoyed much success and I feel honored and proud to be a role model for other women trailblazers in STEM.
Do you have any woman of color in STEM sheros? Who and why?
There are so many women in STEM who are incredibly inspiring and we definitely need to highlight more women STEM sheros of all backgrounds, as women can often be overlooked when it comes to recognition, funding and career advancement.
Look at Katherine Johnson, for example. We all now know her story thanks to the "Hidden Figures" book and movie, which put a spotlight on her role in the space program. But how many years did it take for her to become a household name? The more stories like hers that we can share and the more we can support each other, the better I think it will be for women and the STEM fields in general.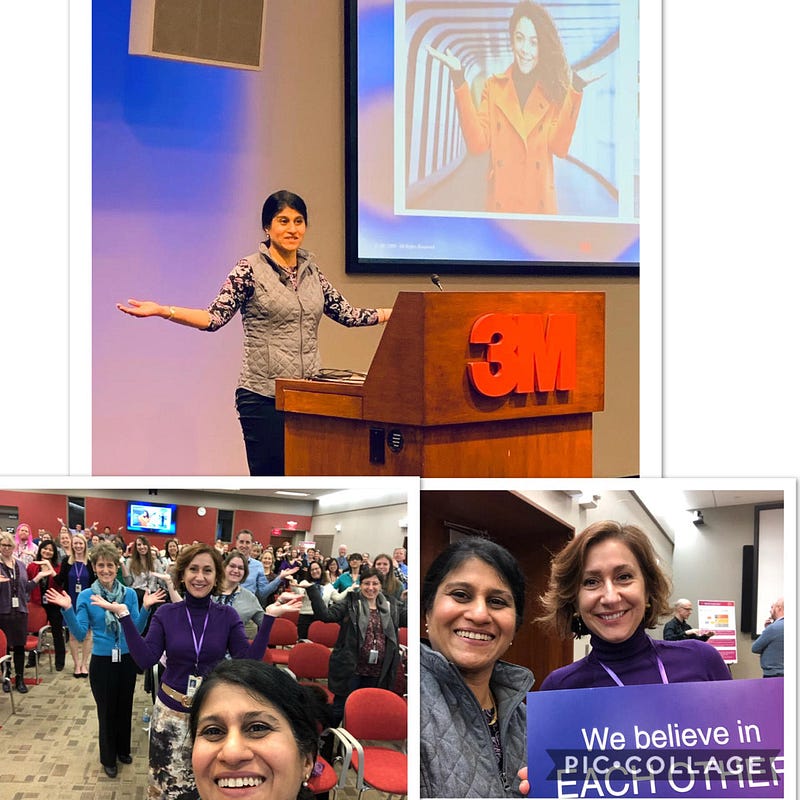 What else are you passionate about?
I love creative endeavors. I love to write (I am a poet), but I especially love to cook. I think cooking is a great way to embrace creativity and experimentation. Everything we do in the kitchen — mixing ingredients, boiling or baking, testing new recipes — can be tied back to the scientific method. I find cooking to be a fun way to also get my kids thinking about science in a nontraditional way.
Why do you think it's important to highlight women of color in STEM?
In the coming decades, we are going to need science to solve the challenges we'll face as our global population is expected to grow to over 9 billion by 2050 — and these solutions will require thinking from people of all backgrounds. We cannot afford to perpetuate the stereotype that science is only accessible to certain people from specific backgrounds. If we don't highlight the many faces of STEM and praise the success of women and scientists of all colors, then we risk failure in attracting diverse scientists to the field.
Diversity of thought is key to innovation.
Are there institutions, groups or organizations you want us to shoutout?
There are too many to name! I am a big fan of the work that the American Association for the Advancement of Science (AAAS) is doing in order to promote diversity and inclusiveness in science. I also really admire the work of the Alan Alda Center for Science Communication in training scientists to be better communicators, as that is a key challenge we need to address from the State of Science Index findings.
There are so many STEM organizations and science non-profits doing great work and I applaud them for all their efforts. Keep up the great work!
You can find Jayshree Seth on Instagram, Twitter and LinkedIn.
---
Thank you, Dr. Seth, for all the great work that you do championing diversity in STEM at 3M and globally via the State of Science Index. We're honored to have you in our #VanguardSTEM Village!
---
If you enjoy our weekly #WCWinSTEM features, consider donating to our parent not-for-profit, The SeRCH Foundation, Inc., to help support this work.