DeAndrea Newman Salvador is the founder of RETI and an energy professional. She's on a mission to create equitable access to clean energy, energy efficiency and innovate energy technology solutions.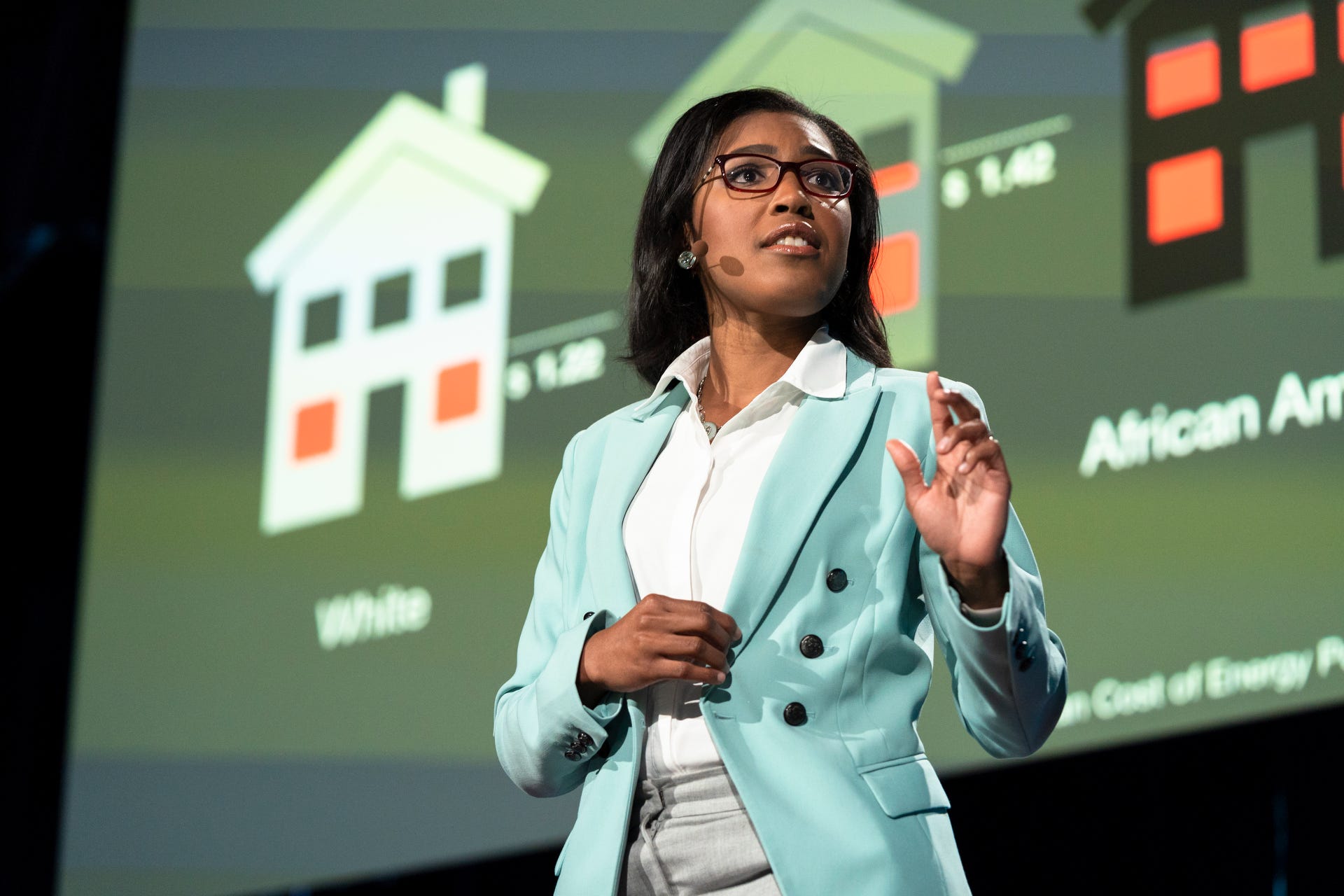 DeAndrea Newman Salvador is focused on powering a more secure future for low-income residents by sustainably decreasing their energy costs. She is a community-based energy advocate who educates, empowers and inspires families living in "energy poverty" to create new possibilities for their future. She also loves fries, caesar salad and talking about equity and behavioral economics.
Responses may be edited for clarity and brevity.
---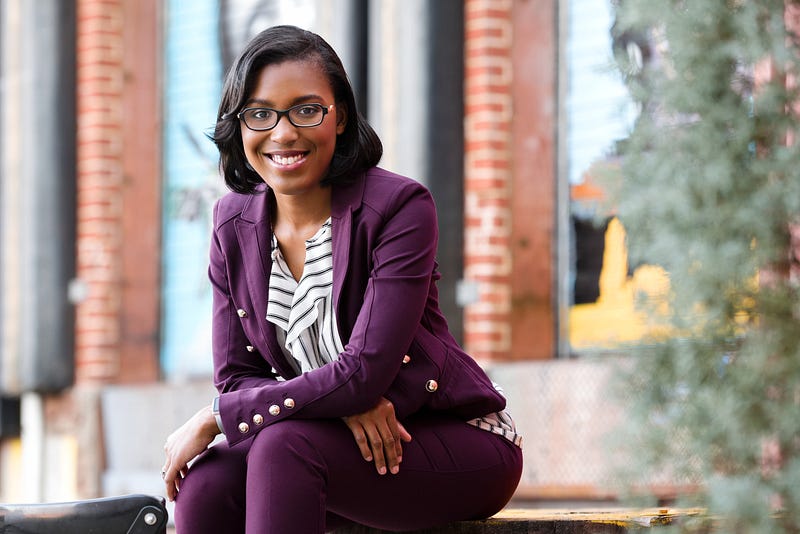 Where did you go to school?
LEED Green Associate Certification, U.S. Green Building Council, Atlanta, GA
B.S. Economics, University of North Carolina at Charlotte, Charlotte, NC
Biology and Chemistry coursework, Wake Forest University, Winston-Salem, NC
What do you do right now?
I am the Founder and Executive Director of a nonprofit organization called Renewable Energy Transition Initiative (RETI). RETI works to decrease the energy burdens of people across the southeastern United States.
Energy burdens, also known as energy poverty or energy insecurity, refer to a person or family's inability to afford energy for basic necessities.
Some researchers believe that the threshold of unaffordability is about 10% of household income. However, several economists who have developed the home energy affordability gap, have determined that when someone spends greater than 6% of their income on energy, it is above the unaffordability threshold. When families have high energy burdens they often have to forgo food, medicine or live at dangerous temperatures to avoid their utilities being shut off. As a result, households with a high energy burden are at greater risk for poor health conditions.
While RETIs focus is with individuals or families with high energy burdens, we also do outreach and engagement with the community-at-large. We do a variety of activities from small, personalized do-it-yourself energy efficiency workshops for churches, youth groups and community organizations to strategic partnerships with utilities and government entities. We've recently done efficiency and conservation workshops in partnership with the City of Charlotte and for the North End Smart District Smart Homes Kickstart. Our programs center on increasing awareness and resources toward interventions that can decrease energy costs. We are also working with a local utility company to create a shared solar bill savings program.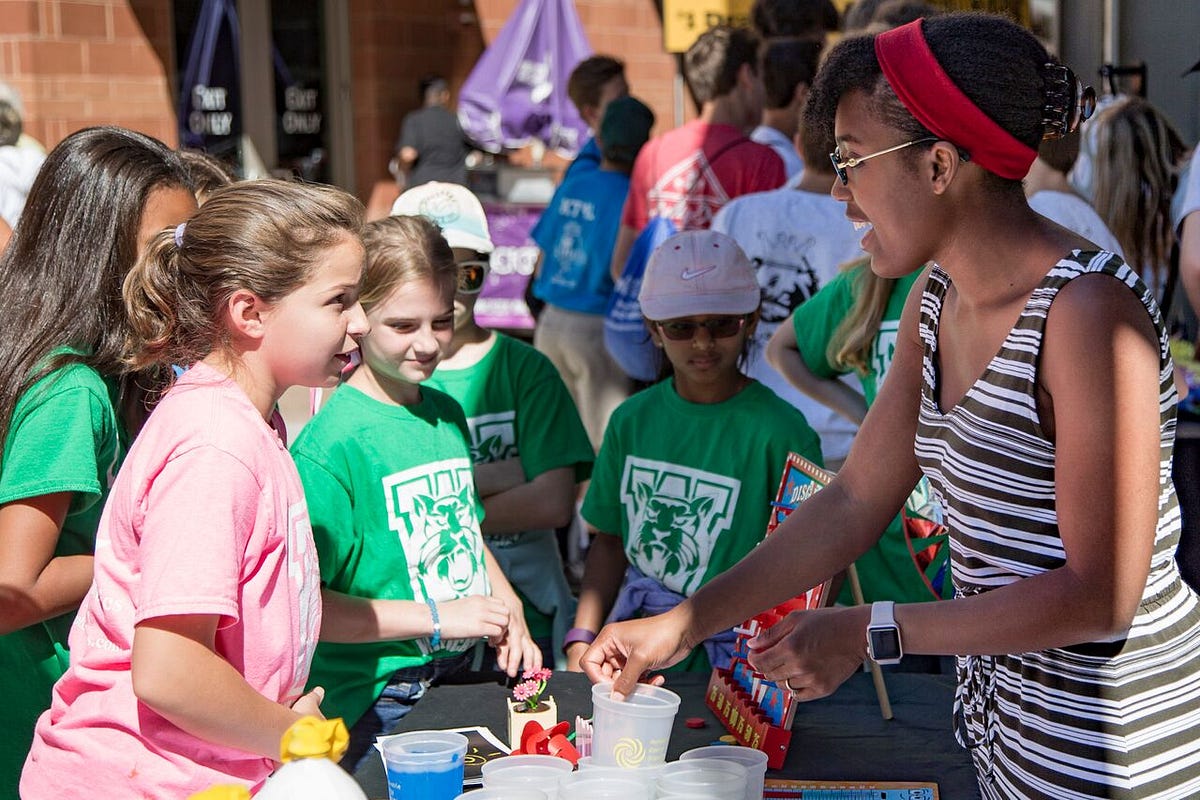 While the quantitative economics courses I took during undergrad like econometrics and mathematical economics tend to be more traditionally STEM, I was not formally trained as an energy professional in my college STEM courses. I learned about energy and sustainability on my own, and self-studied to get certifications, such as the Leadership in Energy and Environmental Design (LEED) Green Associate certification.
Founding RETI and working in sustainability was not something I expected to do and was actually a very new area for me. It stemmed from having conversations with members of my community and learning that many people were facing similar hardships because of disproportionately high energy costs.
I decided to get certifications in energy and sustainability, so that I could stay up-to-date on the necessary skills and information that allow RETI to be a leader in providing interventions that reduce — and hopefully eliminate — energy burdens.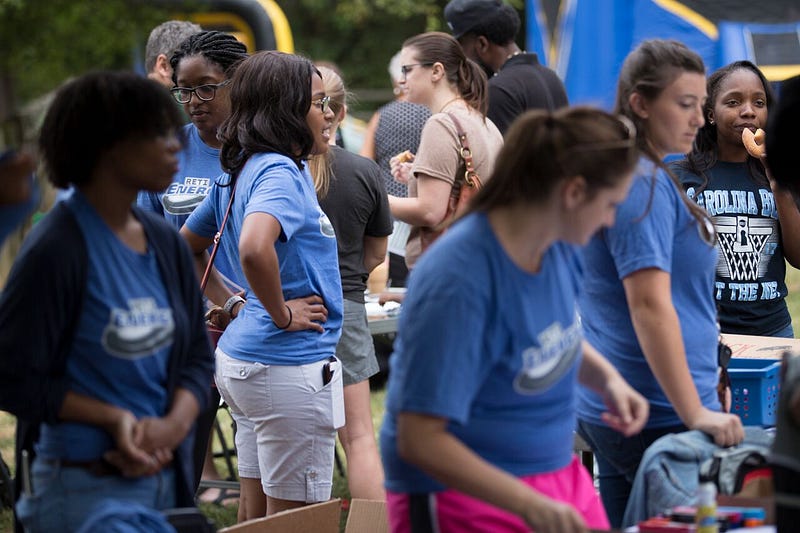 What made you choose your STEM discipline in the first place?
I had an interest in math beginning in elementary school, thanks to my third grade teacher, Ms. Wright. Though I didn't major in mathematics in college, I credit her with unlocking my initial curiosity in math.
By the time I went off to college, though, I knew I wanted to pursue a field where I could help people. At first, I thought the best route would be by being a doctor. So naturally, upon entering school at Wake Forest, I started on the biology and chemistry track. As I got older, gained new experiences and continued further along in school, I realized that there are a lot of paths to make a positive impact on the world.
It was empowering to recognize that I could embrace what I was most academically passionate about and still make a positive impact, no matter what industry I decided to pursue.
Coming to the realization that something that I had wanted for several years — to become a doctor — might not be truly aligned with what I enjoy educationally, was tough. It was this realization that prompted me to transfer to the University of North Carolina, Charlotte (that, and the cost of private education is VERY high not to know exactly what you want to pursue!). It took some time for me to come to terms with this change, but through my volunteer work and great experience leading a service organization at Wake Forest it showed me that you can find fulfillment in A LOT of ways.
Fast forward another year, I found myself as an economics major and I couldn't have been happier. UNC Charlotte has a very math-intensive economics program, which is something I really enjoyed since my time with Ms. Wright. I also loved the flexibility the major allowed me; I knew economics majors to go on to a lot of different careers and that was something I was hopeful that my major would allow me to do.
I choose anthropology as a minor because though I enjoyed the math, statistics and analysis that are found in economics, I also found learning about societies and cultures to be quite fascinating, as well.
During college, I didn't have much coursework in energy or sustainability outside of an energy and environmental economics course. While I've always been concerned about climate change and air quality, my transition into sustainability happened after having many conversations with neighbors, professors and really anyone I met about the issue of high energy burdens. Soon after, I decided I wanted to play a role in doing something about it.
What's one piece of advice you wish you had when you started your STEM journey?
Find a mentor, or even a peer, that can support and encourage you. When I was in college, even in economics, I didn't have many mentors that helped to guide me through the process of working through what I wanted my future to look like. After graduating and founding my organization I made it a priority to find mentors — the majority of whom are women — and I found that to be transformative for me. I wish I had done that more deliberately much earlier. (Editor's note: DeAndrea gives even more advice in this quick video. You can use the closed captioning if you're not able to use the sound.)
Do you have any woman of color in STEM sheros? Who and why?
Another WOCinSTEM shero whom I haven't gotten a chance to meet in person yet, is Khalia Braswell, who has a wonderful organization called, INTech Camp for Girls, in Charlotte that works to inspire girls to innovate in the technology field.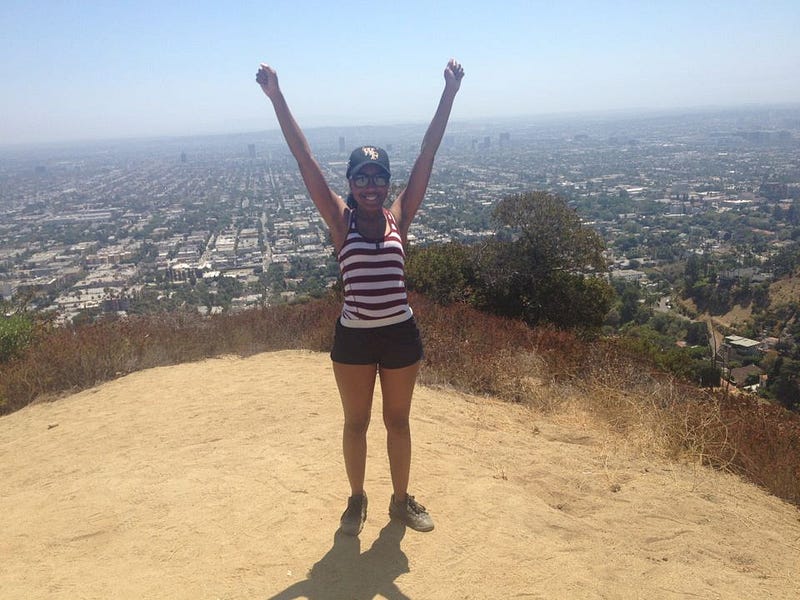 What else are you passionate about?
After having my kids, I am much more mindful about my health than I was before. So I've been passionate about having things in moderation and making sure to stay active, even when things are incredibly busy at work. I also love traveling with my family and experiencing new things with them. Music is another of my passions, mainly because there is a song out there for almost any occasion. I can find music that helps me with an intense period, prepping for a big event, executing difficult work/assignment or just a fun Saturday afternoon.
My biggest stress reliever would probably be painting. I'm no professional, in fact, I got my start in a simple wine and paint class here in town. The more and more I did it, I was amazed at how relaxing an experience it was. I enjoy seeing the finished work after I'm done and proudly display it around my home.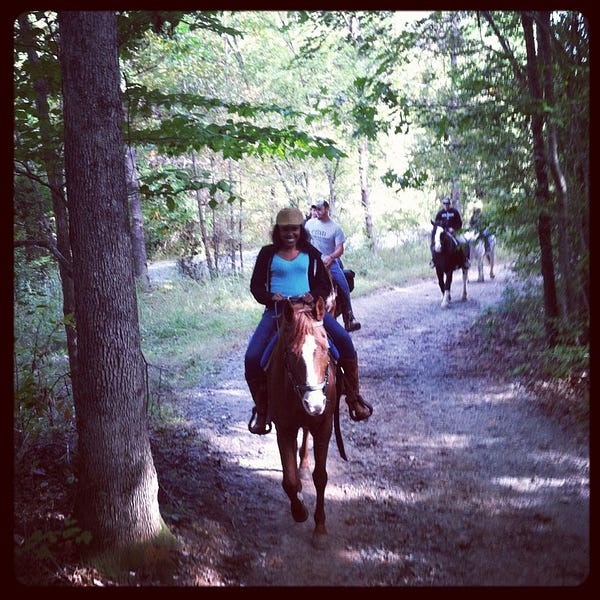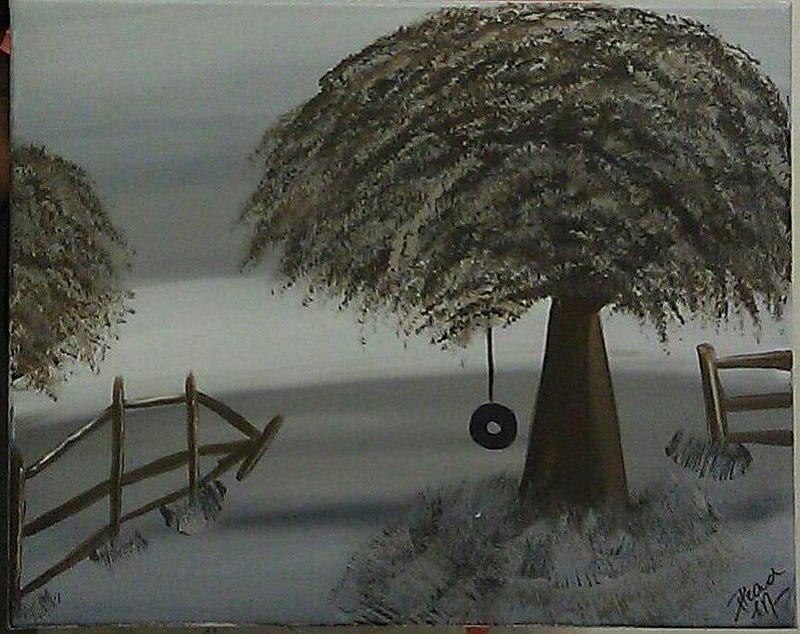 Why do you think it's important to highlight women of color in STEM?
Highlighting WOCinSTEM and by having adequate representation is incredibly important, especially for young children. Seeing WOCinSTEM at an early age was something that was tremendously helpful for me. I think back to my experiences during elementary school; specifically, having feelings of self doubt, and thinking that math and science — honestly, even school — were "not for me." Driven by a number of factors, but mainly that I heard these sentiments described to my mother and grandmother when I was labeled as a "struggling student."
I am so thankful to have a grandmother and mother that tirelessly advocated for me. That support encouraged me to look beyond those comments, and they knew when it was time to consider new environments for me.
When I was in third grade, I transferred to a new public school; my new school was much more diverse and I was fortunate to have been placed in Ms. Wright's class.
Ms. Wright was an African American woman who, when I looked at her I could see myself, or my grandmother or my cousin. In third grade, teachers generally teach all subjects, but I could tell math and science were her passion. She just beamed when she would talk about the work, singing songs during long division and telling her class, which was full of many students of color, that we could be mathematicians and scientists. In fact, she even took to calling us mathematicians, as she celebrating every little success that we accomplished.
I found that having a teacher so encouraging — that pumped me up when I was doing well and who showed that people who love math and science come in many different forms — helped me tremendously when tackling more difficult subjects.
I think back to Ms. Wright and realized now that she truly was a catalyst for how I approached STEM courses, how I felt about myself and my sense of belonging there. It's truly amazing the difference those types of interactions can make. Over the course of one year, I went from being a "struggling" student to excelling in my coursework and standardized tests.
Are there institutions, groups or organizations you want us to shoutout?
My nonprofit organization, RETI — Renewable Energy Transition Initiative. I also serve on the board of directors for a number of organizations including, The American Association of Blacks in Energy, Youth Empowered Solutions (YES!) and Clean Air Carolina. I'm also a part of the Mecklenburg County Air Quality Commission, for which I was appointed by County Commission.
Is there anything else you want us to know about you?
I am honored to have been selected as a 2018 TED Fellow and give a talk at this year's TED conference. The chance to speak to the TED audience about high energy burdens, what they can mean for health and the ways that equitably applied technology can be a great intervention, was culmination of years of hard work by my team members, my community and me.
It was a fantastic and fun time, we live-streamed my TED talk at our office and invited lots of people to come out and congregate over food. A broad swath of the Charlotte attended, including my business partners, volunteers, community organizers and my co-working officemates. All rallied around me throughout the whole experience and provided so much support, so it was great for them to experience the talk in real-time. Now that I have delivered my talk and learned so many new strategies at TED 2018, I plan to apply my new learnings to my work at RETI. I also can't wait to keep in touch with the amazing TED fellows and other TED communities like women in STEM and women of color in STEM, as well.
You can find DeAndrea Salvador on instagram, twitter and facebook. She's also on medium, so don't miss more posts directly from her in the future.
---
Thank you, DeAndrea, for your dedication to energy efficiency and equity for communities of color! We're honored to have you in our #VanguardSTEM Village!
If you enjoy our weekly #WCWinSTEM features, consider donating to our parent not-for-profit, The SeRCH Foundation, Inc., to help support this work.