Expanding the digital footprint of Black and Indigenous women & non-binary people of color in STEM through cultural production.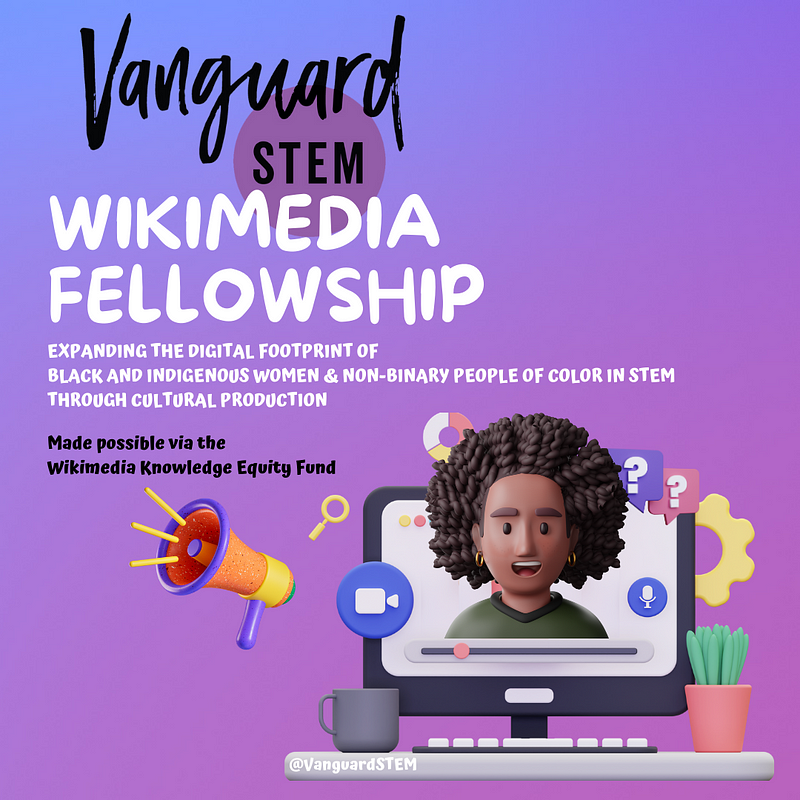 What is the purpose of this program?
As a recipient of the Wikimedia Knowledge Equity Fund grant, it is our goal to expand our repository of content highlighting the experiences, technical expertise, and traditional knowledges of STEM practitioners who have been historically excluded.
The primary goal of the fellowship is to produce community profiles, aggregate online content by BIPOC STEM creatives, and contribute to knowledge production as it relates to the VanguardSTEM mission. We're recruiting passionate post-undergraduate members of the STEM community to contribute to these efforts through a 3-month, paid fellowship program.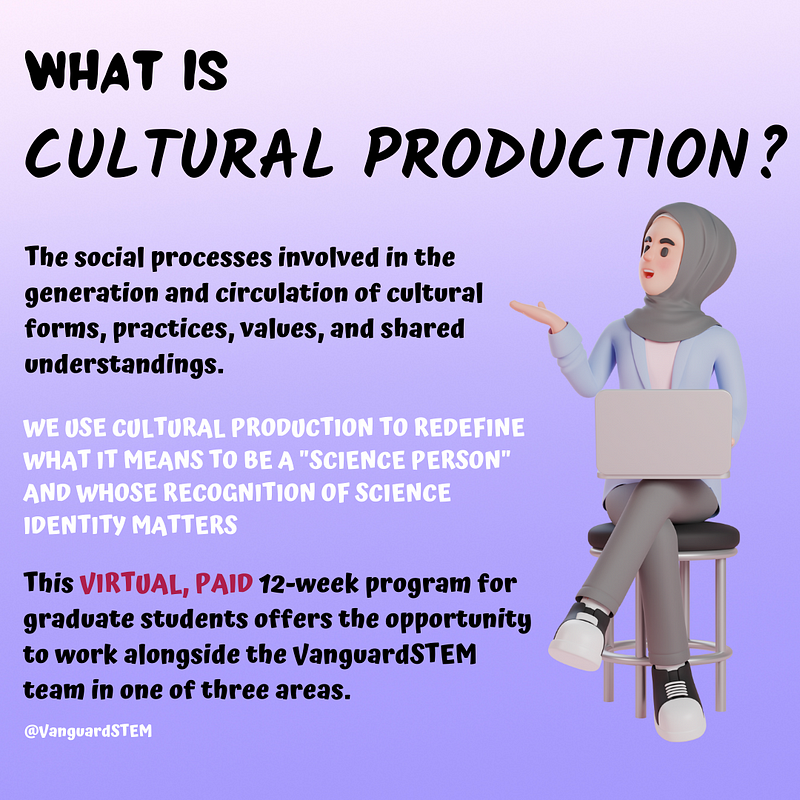 What fellowship positions are available?
The program will recruit 3 post-undergraduate individuals working in (1) community features, (2) digital curation, and (3) mentoring. The primary goal of the Community Features Fellow will be to produce written content aligned with our WCWinSTEM programming; this work will highlight the technical expertise and lived experiences of BIPOC women/enbys in STEM. The primary goal of the Digital Curation Fellow will be to curate thematic collections of online content that forefronts the expertise and experience of BIPOC women/enbys in STEM (similar to a Buzzfeed listicle style). Finally, the primary goal of the Mentoring Fellow will be to contribute to the reporting and analysis strategy of our Decolonized Mentoring programming led by Dr. Arianna Long.
This program serves our goal to cultivate resilience, science identity, and a sense of community among BIPOC women and non-binary STEM creatives.
Community Features Fellow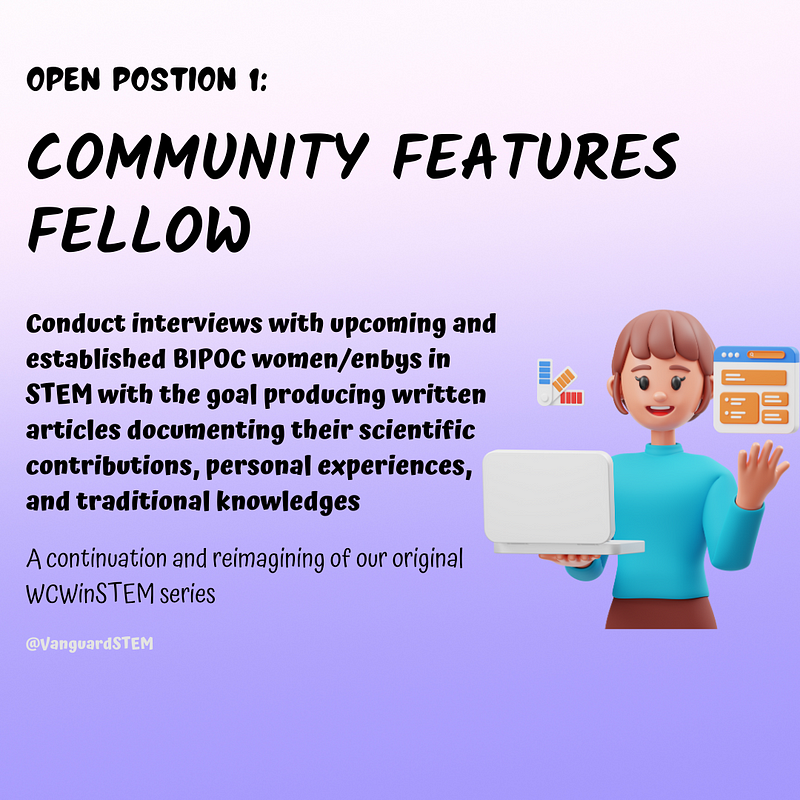 The Community Features Fellow will contribute to our foundational WCWinSTEM series. This requires cold emailing and/or DMing to invite emerging and established scientists, collecting images from featured individuals for their articles, and ensuring that questions are answered fully, thoroughly, and personably. VanguardSTEM values the cultural identities of our community members. While the baseline questions will be provided, this person will have the unique task of affirming the featured individuals' science identity to better tell their stories.
This person should be interested in science communication, journalism, and/or other fields of documenting lived experiences.
Candidate Qualifications: Moderate understanding of Twitter, Instagram, and TikTok; priority given to experience editing online content; possess exemplary writing, editing and proofreading skills; proclivity for details, critical thinking and compassion; an understanding of the VanguardSTEM voice; propensity to work well in virtual teams and independently to accomplish tasks
Outcomes: This person will compile a list of potential BIPOC women and enby folks in STEM to reach out to for features (building on our current repository) and produce, at minimum 10 feature articles.
Digital Curation Fellow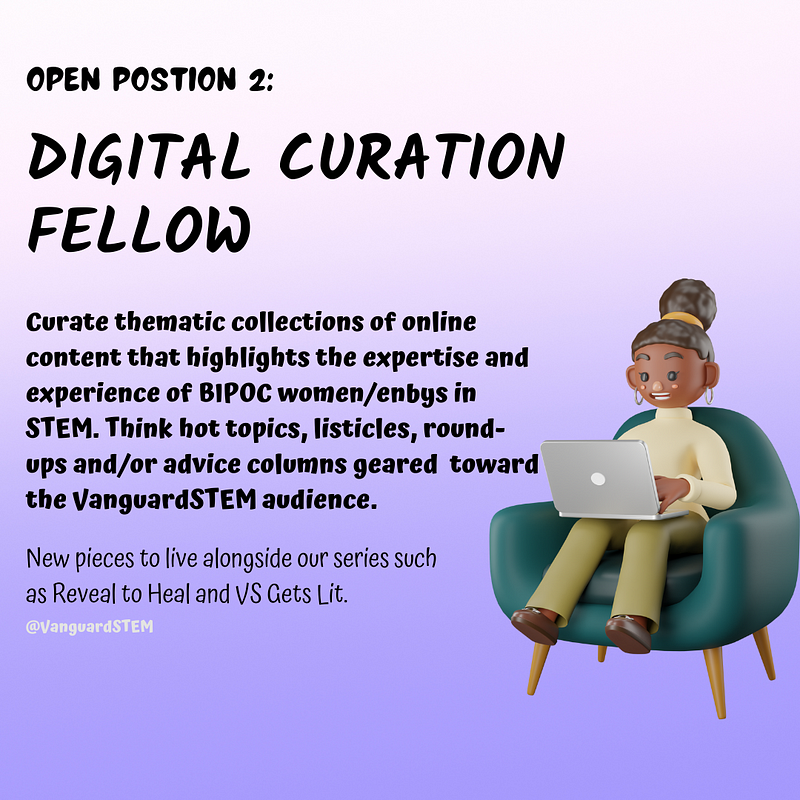 The Digital Curation Fellow will scour the web to share the hottest topics, and resources for and by BIPOC STEM practitioners. This Fellow will curate thematic collections of online content that highlights the expertise and experiences of BIPOC women/enbys in STEM. This person is responsible for article formatting and incorporation of media, though these components may be provided through VanguardSTEM's graphic assets where necessary.
This fellow should be someone interested in leveraging social media to build community and celebrate the plethora of BIPOC folks shaping STEM at all stages.
Candidate Qualifications: Proficient use of Twitter, Instagram, and TikTok; demonstrated understanding of social media trending topics; familiarity with online affinity groups; social media, marketing and/or graphic design experience appreciated; an understanding of the VanguardSTEM voice; propensity to work well in virtual teams and independently to accomplish tasks
Outcomes: This person will produce at minimum six articles that center scientific contributions, personal experiences, or relevant community knowledge for/by BIPOC women and non-binary people in STEM. Topics that may be covered include, but are not limited to:
Curated tips/resources for BIPOC STEM practitioners
STEM Creatives building an online presence (i.e. TikTokers, Instagram accounts, Podcasts, YouTube channels, etc.)
Highlighting trends originating from BIPOC communities
Online community networks for BIPOC STEM practitioners (i.e. BlackInX Network)
Top [Field of Relevant Community Interest] Scientists to Follow
Other topics pitched by fellow aligning with their interests and VS mission
Decolonized Mentoring Fellow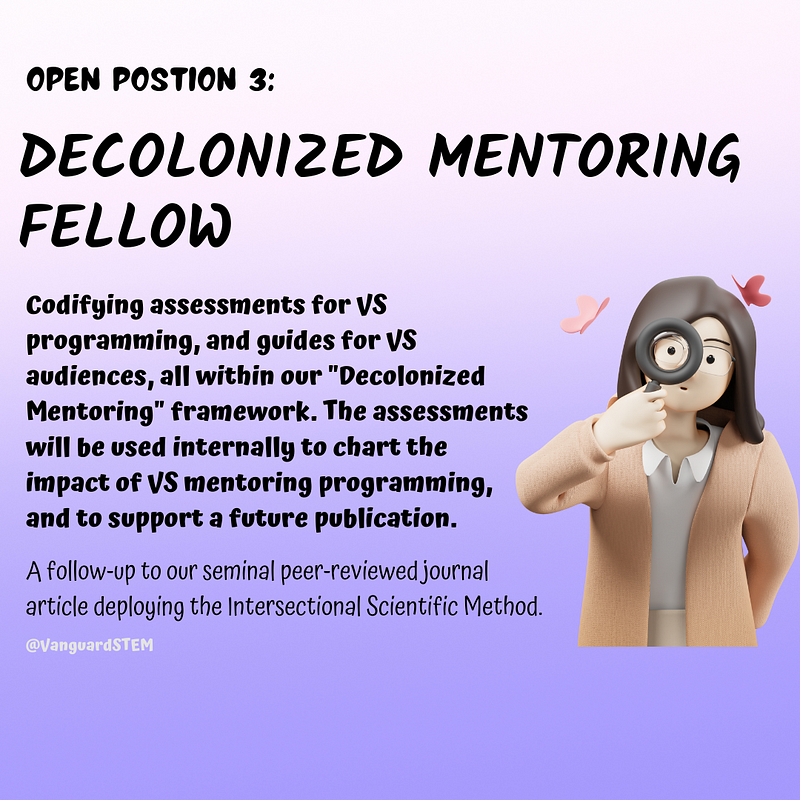 This Fellow will work alongside Dr. Arianna Long to develop assessments for VS programming, and guides for VS audiences, all within the Decolonized Mentoring framework. The assessments will be used internally to chart the impact of VS mentoring programming, and to support a future publication. The three guides will be hosted on the conversations.vanguardstem.com site under the Fellow's name, and will include a decision-tree like format with steps for (i) selecting a mentor, (ii) building a supportive and inclusive mentoring environment in your lab, and (iii) evaluating your mentoring relationships. VanguardSTEM has worked to curate resources and define our praxis in these areas, the Fellow will be responsible for synthesizing these into formats for distribution.
This Fellow should be someone with interest and knowledge in effective mentoring methods that support and uplift marginalized people in STEM, and an interest in disseminating complex research with broad audiences.
Candidate Qualifications: Expertise and knowledge in current research on mentoring underrepresented folks in STEM (ideally their profession); experience in using social media and/or blogs for science communication; demonstrated ability for systematic evaluation, critical thinking, deductive reasoning; propensity to work well in virtual teams and independently to accomplish tasks.
Outcomes: 3 new mentoring resource articles & assessment surveys (intake + exit, etc.) for VS mentoring programming. This fellow may potentially be offered co-authorship on VS's upcoming peer-reviewed mentoring publication.
Commitment and Compensation
Applications are open through August 10, 2023. We will conduct interviews on a rolling basis, candidates will be notified of the final decision by August 21, 2023.
We especially encourage applications from those who are historically excluded on the basis of race and gender.
This 3-month program requires 5–10 hours per week of time on-task, including a weekly meeting with the VanguardSTEM C-suite.
This work is funded by the Wikimedia Knowledge Equity Fund. Fellows will be compensated $5,000 in two payments, one after initial onboarding and the other to follow upon completion of the required tasks.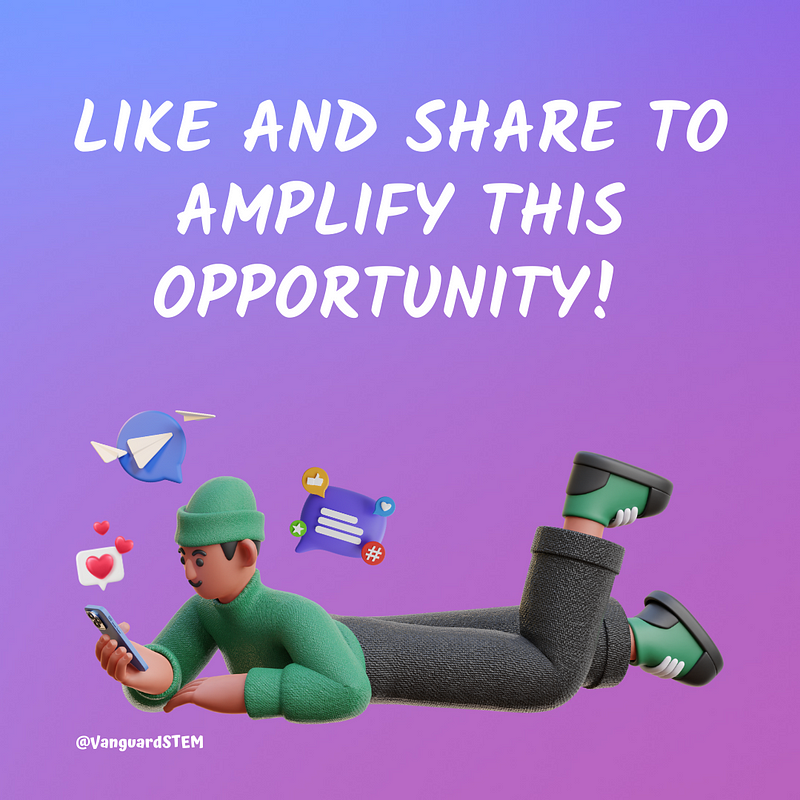 ---
Consider donating to our parent not-for-profit, The SeRCH Foundation, Inc., to help support our work.