Dear Brown girl, brimming with brilliance and burdened by the presumption of incompetence: no one prepared you for the difficult journey that lies in studying the stars.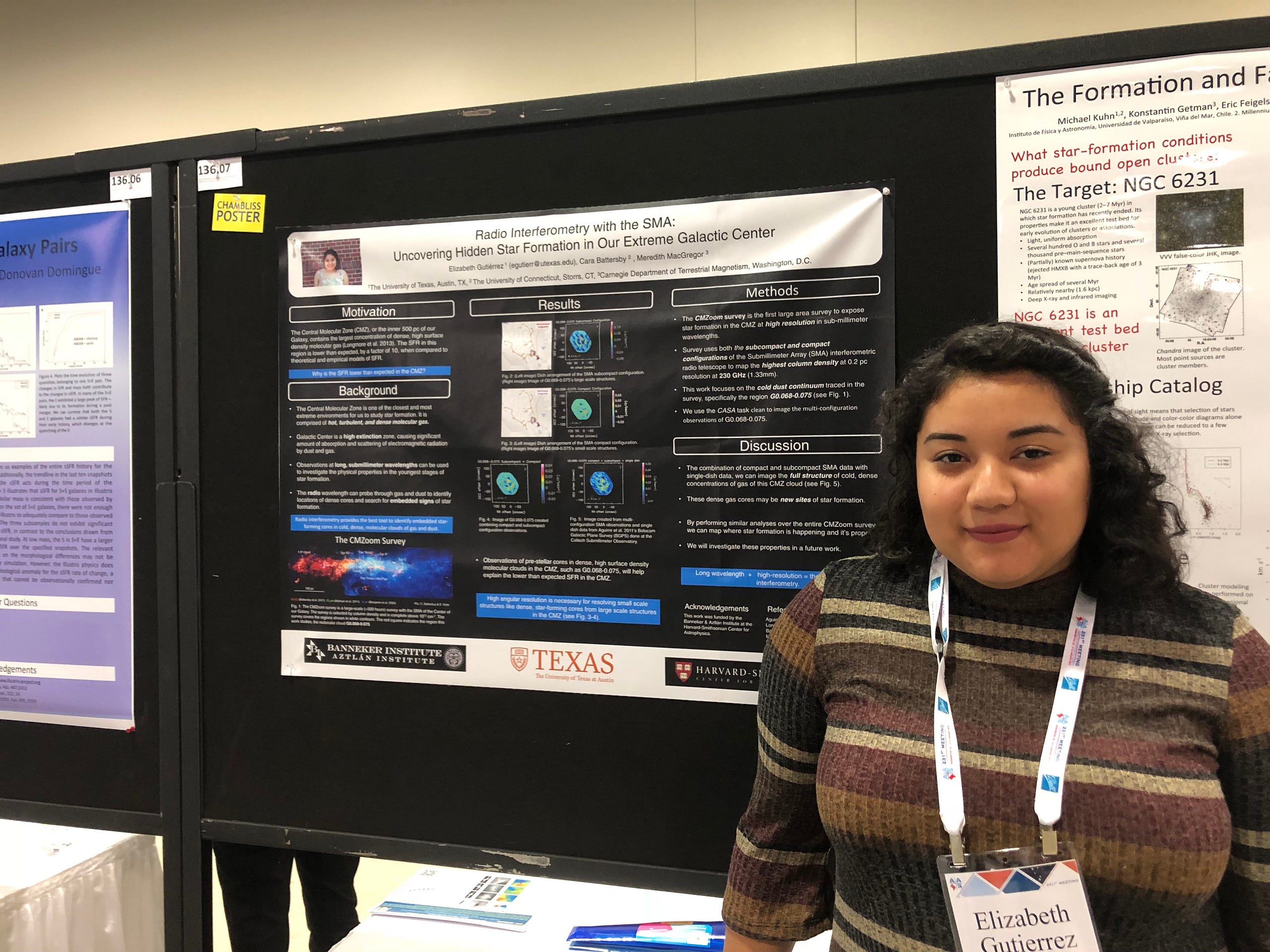 Responses may be edited for clarity and brevity.
Editor's Note: Elizabeth's profile was updated at 12:23 p.m. on October 10, 2018 to more accurately describe the difference between small- and large-scale star formation, and to correct misinformation regarding Ashley Walker's educational trajectory.
---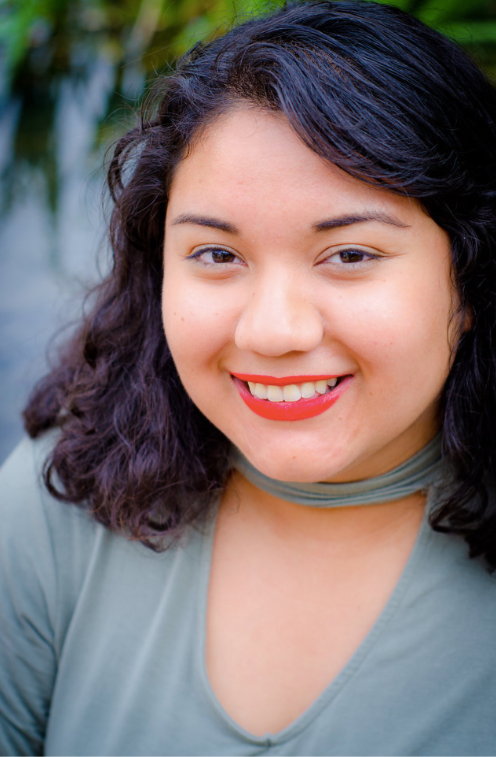 Where did you go to school?
Astronomy B.S. (in progress), University of Texas, Austin, TX
Carmel Catholic High School, Mundelein, IL
What do you do right now?
I'm currently a fifth-year undergraduate student at the University of Texas at Austin pursuing a Bachelor's of Science in Astronomy.
My research interests have focused on star formation across large and small scales — for example, the formation of a galaxy is considered large scale, while a star-forming region within a galaxy is considered small scale.
While this kind of research can be done both observationally and theoretically, my research has been purely observational, making use of ground and space telescopes to gather data. I ask questions like, "What are the ideal conditions that allow star formation to occur?" and "What physical processes prevent efficient star formation?"
Recently, I shifted my research focus from observational studies to theoretical studies of star formation — I traded telescopes for supercomputers! Instead of reducing and analyzing telescope data, I now work with cosmological (dark matter) simulations, which is more coding-intensive.
My current research project uses dark matter simulations to visualize the physical properties of the early universe. My goal is to understand how the earliest galaxies — which are comprised of stars, gas, dust and dark matter — formed via dark matter halos.
I've always been interested in star formation, but a course I took piqued my interest in cosmology. Luckily, I found a way to merge the two!
What made you choose your STEM discipline in the first place?
I think of myself as a natural-born scientist. Since childhood, I have been curious about how the universe works. When I was a junior in high school, I had the opportunity to conduct astronomy research with my physics teacher. As a result, I attended and presented research at my first professional conference at a young age, which reinforced my desire to study astronomy.
I like astronomy because it's mysterious and chaotic — and from that mystery and chaos, creation occurs. In this sense, I say that astronomy is quite poetic. And as much as I like astronomy, I have to constantly find new and creative ways to sustain my passion in a field where people don't often have compassion for me.
Luckily, because I think of myself as a natural-born scientist, I discover new ways to sustain my interest by always asking questions — all the questions! — and finding ways in which other's research or other sub-fields in astronomy can help inform the type of science research I want to do! I have retained my child-like curiosity and tendency to ask questions about how the world around me works.
What's one piece of advice you wish you had when you started your STEM journey?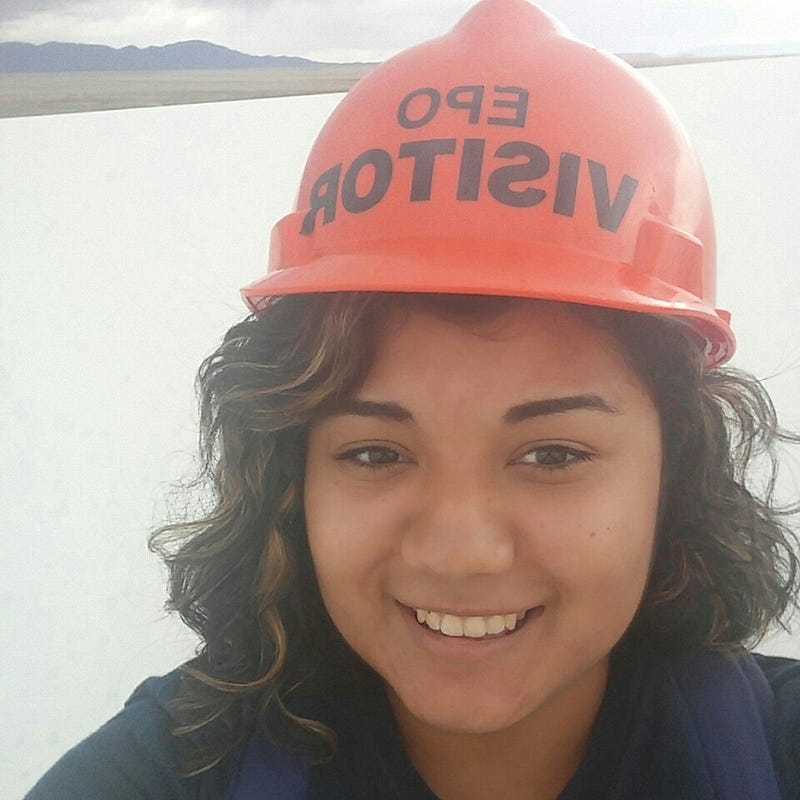 I wish I had been warned about the realities of being a woman of color in astronomy.
In high school, I was fortunate to be a part of a community that positively reinforced the creation of my STEM identity. It wasn't until I started college that I began to realize my existence in academia would be racialized and gendered.
I definitely wasn't prepared for the transition from high school to college. I went from an environment where my brilliance was constantly affirmed to an environment where I constantly contended with the presumption of incompetence.
Had I been told what women of color in astronomy experience, I would not have internalized the negative experiences — experiences that ultimately affected my ability to see myself as a scientist and feel optimistic about my future in academia.
For any woman of color who is experiencing the same challenges I did when I transitioned from high school to college, I say to you: you are brilliant and you belong.
If people in your institution aren't supportive and won't acknowledge your brilliance, I can promise you there's someone outside your institution who will gladly affirm, mentor and advocate for you.
Tell us a bit about the intersections you occupy. How do you describe your identity?
I self-identify as a woman of color. There are other identities I also hold as a woman of color that are integral to my experience in STEM: I am a Chicana (a person of Mexican descent), a daughter to immigrant parents, a first-generation student and a woman who lives with depression and anxiety. Together these identities influence how I exist and navigate academic spaces.
Moreover, I have noticed how the ableism, racism and sexism I experience in STEM are amplified by the fact that I am a woman of color and occupy these other intersections of identity.
Although I'm a second-year student at UT Austin, it was not the first college I attended — hence my fifth-year status. My college journey began in the fall of 2014 at a prestigious, private, predominantly white institution (PWI) on the East Coast, at which I completed three years of undergraduate training.
Before starting college, I only really identified as a woman and Latina. As I began to experience new levels of racism and sexism, I started acquiring the vocabulary necessary to understand and speak about my experience. Over time, I began to identify as a woman of color and, specifically, a Chicana. Throughout my experiences at this PWI, it became undeniably clear that my skin color and ethnic identity were what separated my experience as a woman in STEM from that of white women in STEM.
I ended up transferring from that institution in the middle of my third year of college because it was my own personal "Sunken Place." I internalized many of the negative experiences I had there that centered around my identities.
Luckily, I transferred to an institution and a department where I feel better supported. I am in the process of unlearning everything I internalized. For me, this process involves talking openly and honestly about my experiences. I have found that doing so enables me to create communities of support and healing.
Do you have any woman of color in STEM sheros? Who and why?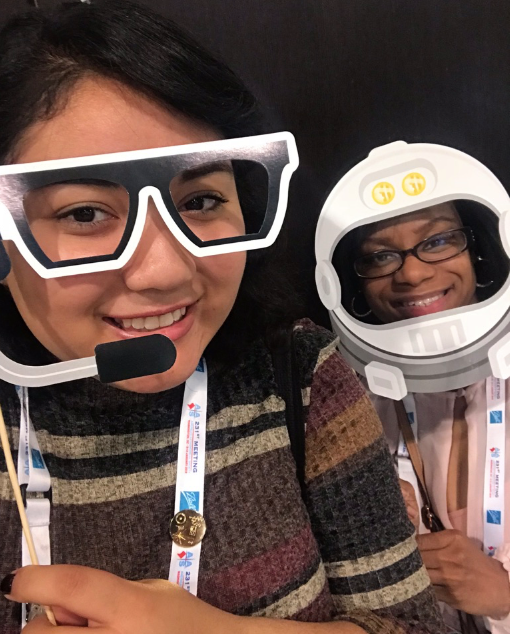 The shero in my life is my dear friend Ashley Walker, a senior at Chicago State University. She is pursuing a B.S. in chemistry with a minor in physics. She plans to go on to earn a Ph.D. in astrochemistry.
Coincidentally, I first interacted with Ashley after we both tuned into an episode of On the Vanguard: Conversations with Women of Color in STEM!
We were both following the #VSVillage conversation on Twitter and started to follow each other. Later on, we found out we were both going to be at the Banneker and Aztlán Institute at Harvard (an astronomy research program that emphasizes social justice education for students of color) over the summer.
Ashley is my best friend and one of my biggest advocates in astronomy. Her friendship has offered me so much wisdom and knowledge when it comes to navigating the STEM field as she herself is a woman of color.
What else are you passionate about?
I enjoy writing poetry. It's an art medium that I find cathartic. This past January, I performed a spoken-word poem highlighting my experience as a woman of color in astronomy during an open-mic night at the 231st American Astronomical Society (AAS) Meeting.
After my performance, I was approached by several people —many of them women of color — who expressed how powerful it was to see me speak my truth unapologetically. Here's an excerpt from that poem: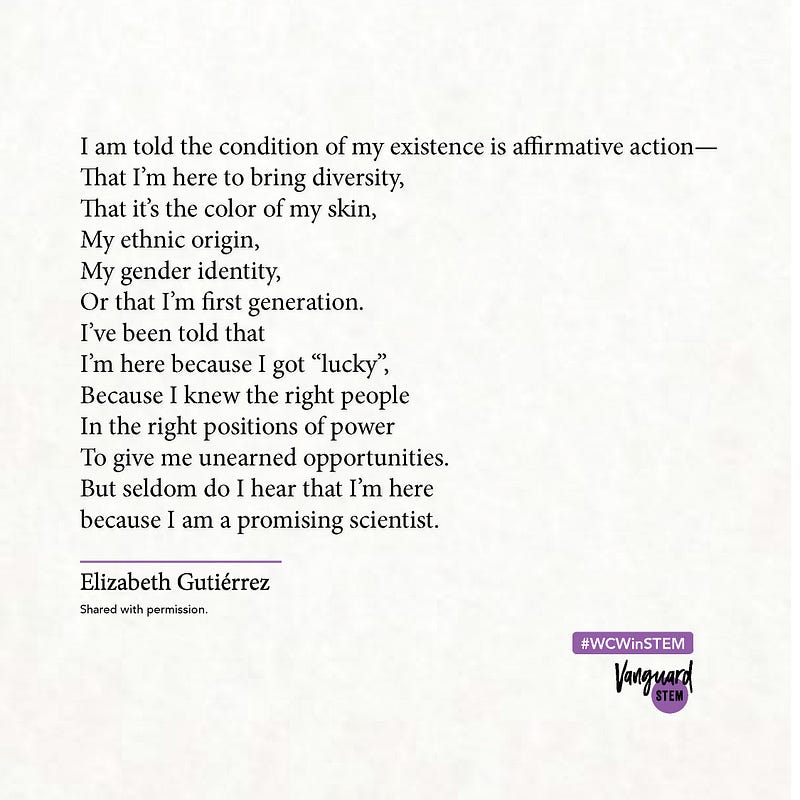 [Editor's Note: To ensure equal accessibility for all of our readers, Elizabeth's poem is also shared below:
I am told the condition of my existence is affirmative action — 
That I'm here to bring diversity,
That it's the color of my skin,
My ethnic origin,
My gender identity,
Or that I'm first generation.
I've been told that
I'm here because I got "lucky",
Because I knew the right people
In the right positions of power
To give me unearned opportunities.
But seldom do I hear that I'm here
because I am a promising scientist.]
Why do you think it's important to highlight women of color in STEM?
Personally, it's been important for me to see women of color in STEM highlighted because their visibility profoundly impacts how I see myself in the field.
Seeing other women of color thrive in astronomy has been integral in helping me identify as a part of the scientific community.
My first undergraduate research advisor was a woman of color I worked with while I completed an NSF Research Experiences for Undergraduates (REU) at the National Radio Astronomy Observatory. She was the first Latina in astronomy I knew (beyond myself), and beyond being a superb scientist, her presence and mentorship helped me establish my STEM identity.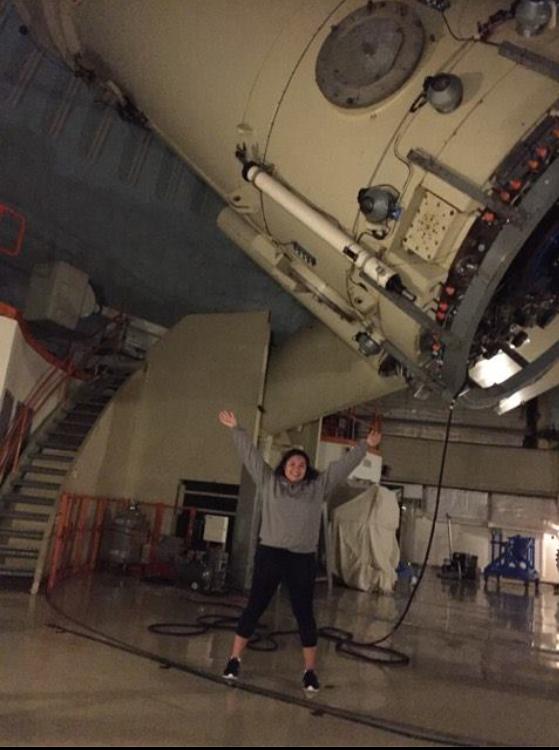 Are there institutions, groups or organizations you want us to shoutout?
There are three programs I'd like to shout out, of which I am an alumna:
Is there anything else you want us to know about you?
I am very active on Twitter, where I speak openly about my experience as a woman of color in astronomy. Currently, there's dialogue among academics about the experiences of women of color in graduate school, yet those discussions don't often seem to include undergraduates.
I find it troubling that so much of the dialogue focuses on women of color once they're in graduate school — we face so many obstacles simply getting into graduate programs. These conversations need to acknowledge the challenges we face at the earliest stages of our careers, too.
By revealing my own personal journey, I have been able to connect with other women of color and those who seek to change the culture in STEM.
You can find Elizabeth on Twitter and LinkedIn.
---
Elizabeth, thank you for the passion you bring to astronomy and to conversations about the unique experiences of #WOCinSTEM. We're honored to have you in our #VanguardSTEM Village!
---
If you enjoy our weekly #WCWinSTEM features, consider donating to our parent not-for-profit, The SeRCH Foundation, Inc., to help support this work.